End of Year 2017 Newsletter
Tuesday, December 19, 2017
Hello, friends.
Happy Holidays to everyone!
As we near the end of 2017, we count our blessings, visit family, rekindle old friendships, and reach out to those who might need a little help. It's the time of year when we reflect on things we haven't had a chance to ponder in the hurly-burly of our fast-paced everyday life.
I want to take a moment to thank everyone who has volunteered their time to help those not as fortunate as them, everyone who has seen a need and through the kindness of their heart provided a personal touch, or something that helped someone get more easily through the day. Your generosity of spirit can change the world.
Here's a look at what I have been up to since my last newsletter.
Highlights of this issue:
"Across the Aisle" with Assemblywoman Catharine Baker
Assemblywoman Catharine Baker, R-Livermore, and I appeared jointly at St. Mary's College in Moraga to lead a discussion on how elected leaders can find common ground to produce legislative solutions.
At this event, "Across the Aisle," a forum on bipartisanship sponsored by the Young Republicans and the College Democrats, I unveiled a souvenir card, which carries a bipartisan theme.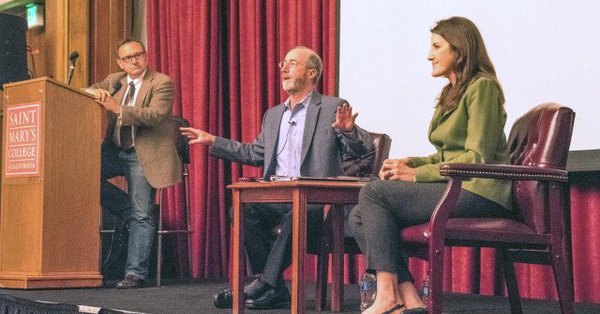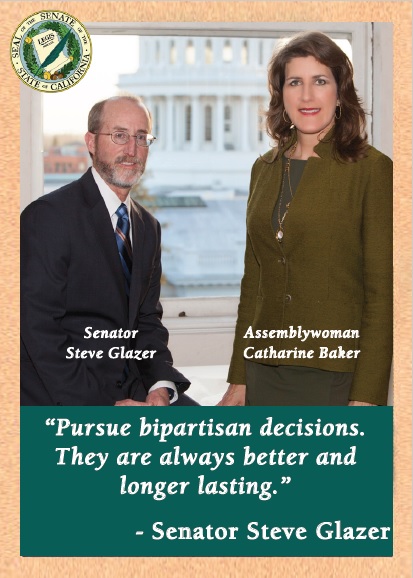 Assemblywoman Baker and I appear on the cover of the card with the Capitol dome as backdrop. The card front also features one of my 10 governing principles: "Pursue bipartisan decisions. They are always better and longer lasting."
On the back of the card are eight issues on which we both agree: Park Bond funding, BART accountability, Greenhouse Gas reduction, school reserves, affordable housing, improved campaign finance disclosure, transportation improvements and local control.
Together, Assemblywoman Baker and I did 11 joint town halls, voted together 89 percent of the time, jointly authored 23 bills, jointly hosted a public safety workshop, and supported the creation of a BART Inspector General, bike safety on Mt. Diablo, and a land preservation/off-road vehicle plan.
If you'd like a copy of the card, call my district office at 925-258-1176.
Chaired hearing on remedial education changes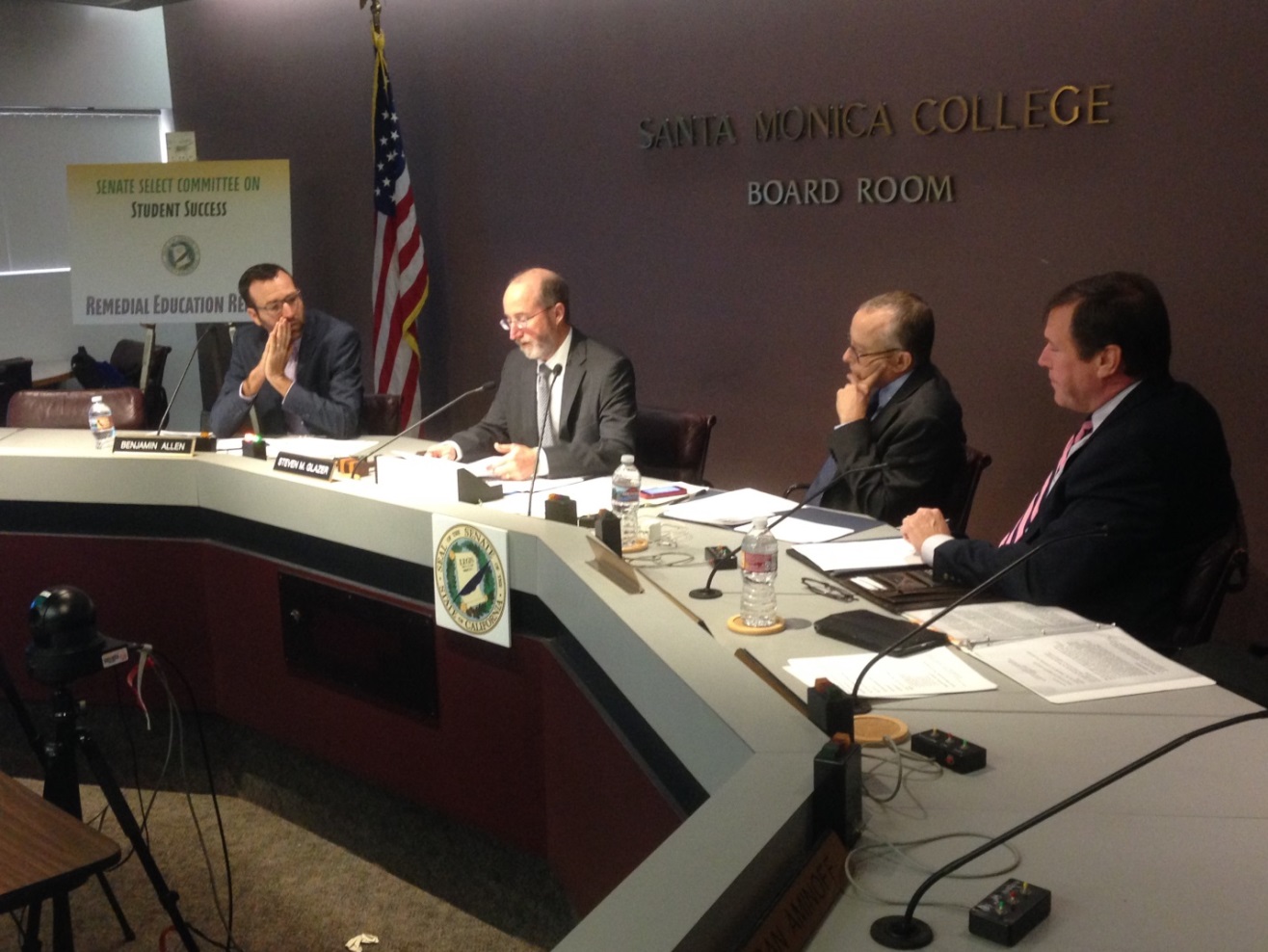 College students can succeed in math and English courses if provided academic support, a key to keeping them on pace to graduate on time. This was an overarching conclusion experts presented in early December as they discussed remedial education reform at a Select Committee on Student Success hearing.
I chaired the hearing at Santa Monica Community College, where we heard from California State University officials, faculty and students, as well as national experts on remedial education reform. Also participating in the hearing were members of the select committee, Sen. Ben Allen, D-Santa Monica, the chairman of the Senate Education Committee; and Sen. Scott Wilk, R- Victorville.
The committee's mission is to examine the barriers to success for California's college students and to explore ways to improve graduation rates and shorten the time it takes for students to complete a degree.
One of those barriers has been remedial education. The initial intentions in providing remedial education were good. The idea was to get students up to speed in English and math so they didn't quit from frustration or drop out after failing their first classes because they were not fully prepared for college-level material.
This included many students who were very successful in high school but, for some reason, still couldn't score high enough on the placement tests to avoid remedial courses. That put them behind schedule from their first day in school.
The latest research shows that rather than helping students stay in school, remedial education has been driving them out. California State University has concluded it was time to scrap remedial education and is in the process of instituting alternative pathways for students to succeed.
Dr. James Minor (below in photo), assistant Vice Chancellor and Senior Strategist for CSU, discussed CSU's recent policy changes, including eliminating placement exams and adjusting remedial education requirements while providing academic support for students.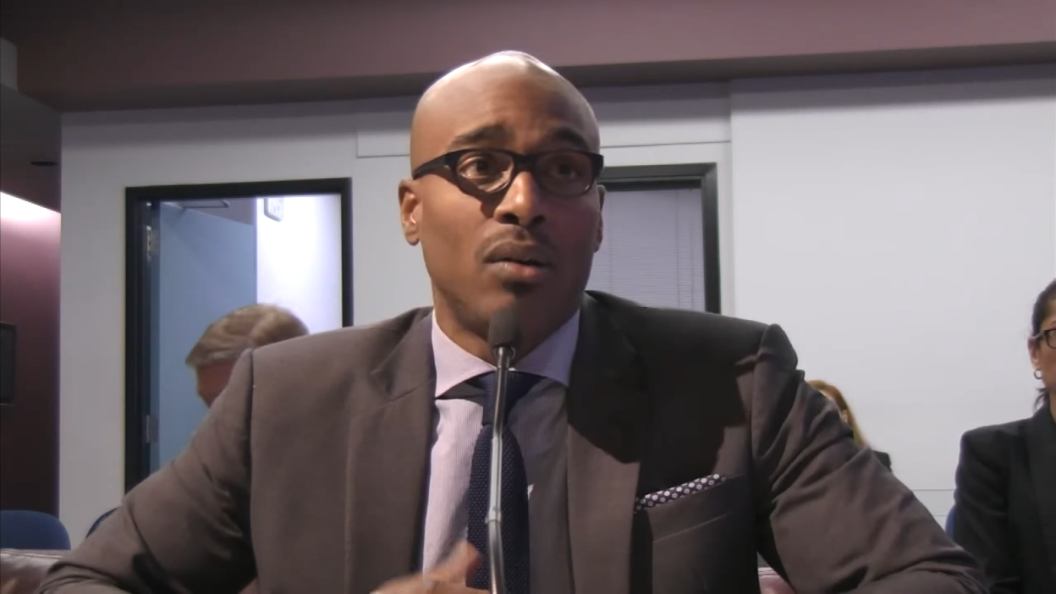 Instead of placement exams, Minor said, the CSU will weigh students' applications based on their high school grades, courses taken and their GPA, "which by all accounts nationally have been shown to be stronger predictors of how students will actually perform in college classrooms. We think that will change the distribution of students in terms of being placed in first year courses to be more accurate and give students a chance from Day 1 to earn college credit."
More than 60 percent of black students and nearly 50 percent of Latino students have been assigned to remedial education courses, and their ability to stay in college has not improved, Minor said.
"We've asked thousands of students to repeat courses that don't count for college credit, and for those who do successfully pass these courses, too often they're no better prepared for college courses than they otherwise would have been," Minor said. "National data are pretty clear that how and where you start has a tremendous consequence on whether or not you finish. Not when, but whether or not. So, these policy changes will have a dramatic and positive impact on these students."
We also heard from experts on national efforts to reform remedial education: Laura Jimenez, of the Center for American Progress and Bruce Vandal, for Complete College America.
Speaking of their own experiences with reform were Cherie Ichinose, associate professor, Mathematics at CSU Fullerton; and Matthew Jones, professor and Math Department chairman at CSU Dominguez Hills.
Chimezie Ebiriekwe, President, San Diego State Associated Students Inc., spoke of his difficult experiences in remedial education. Dr. David Barsky, chair of the CSU Academic Senate's Academic Preparation committee, raised concerns about the 12-month lead time not being sufficient to implement the reforms.
Other members of the Select Committee include: Sens. Toni Atkins, D-San Diego, Patricia Bates, R-Laguna Niguel, Bill Dodd, D-Napa, Ricardo Lara, D-Bell Gardens, and Anthony Portantino, D-Pasadena.
Over the coming months, I plan to hold further hearings to explore various methods that educators are using to achieve student success, such as how they prepare, admit and engage their students as they strive for on-time graduation.
You can watch the most recent hearing here.

New BART Inspector General – A measure to raise bridge tolls will likely be placed on the Bay Area ballot next year. If passed, it will provide over a billion dollars for new BART trains and fund a variety of highway congestion relief measures.
As part of that measure, I put forward a provision that would create a new BART Inspector General who would have sweeping authority to watch over the agency's finances and performance.
School District Reserve Cap: I was the joint author of a Senate bill (SB 751) to eliminate the  cap on small school districts' budget reserves and raise the limit for all others. This is an example of a state mandate that should be eliminated altogether. The Governor signed this bill into law.
Water Capture Systems: The Senate passed my bill to give homeowners and developers a tax credit for the installation of water capture systems. It is modeled after the solar tax credit and should provide some incentives to install these water savings systems. The bill will be heard in the state Assembly in January and could be on the ballot next year.
Ban on Smoking at Beaches and Parks: This legislation to protect public health and help prevent forest fires and ocean pollution passed the Legislature but was vetoed by the Governor. I will continue to seek a solution to this serious issue.
Affordable Housing: I supported a number of bills to encourage the construction of more affordable housing in California. At the same time, I voted against some bills that would limit local review of housing projects. We need to strike the right balance of reducing regulatory barriers for more housing without trampling on a community's right to ensure a project follows local rules.
Climate Change: I supported a bipartisan market-based plan to reduce greenhouse gas emissions. Known as Cap and Trade, this proposal was a superior alternative to a proposed government regulatory scheme. These bills, which extend the state's Cap and Trade program through 2030, advance smart environmental policies that are economically sustainable and will protect California jobs. The coalition advancing this successful initiative included the full spectrum of political groups, including the state's leading environmental organizations and the Chamber of Commerce.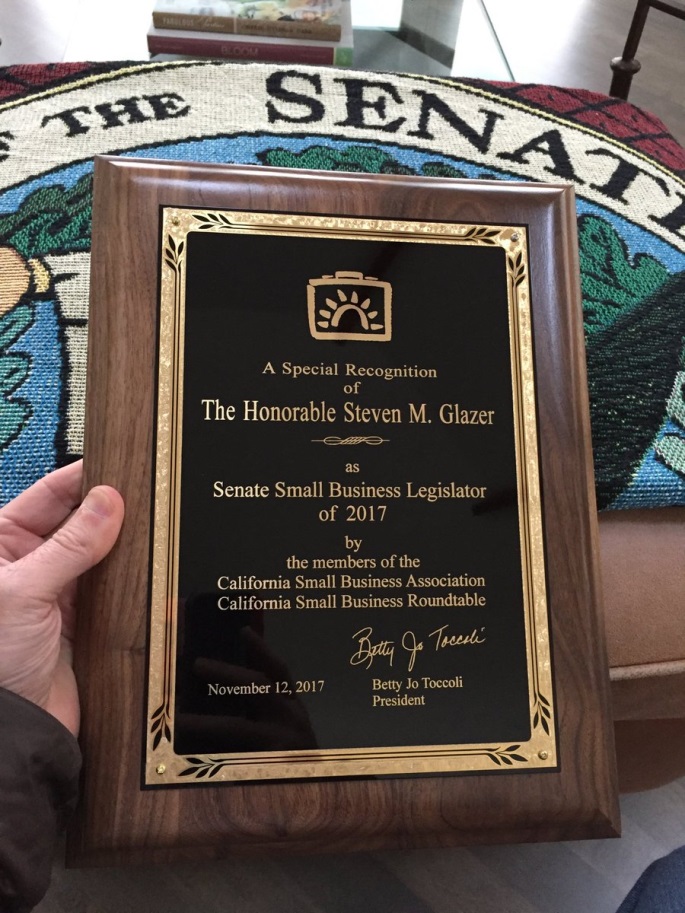 Small Business Legislator of the Year
I was honored to receive the Small Business Legislator of the Year award from the California Small Business Association.
This is an award that I take particular pride in, given the critical role small businesses play in California's economy. When we make policy, we need to keep in mind the onerous burdens new laws can create on small businesses, which are such an important source of new jobs in California.
Here are upcoming events that I will be participating in early next year:
Monday, January 22nd – San Ramon City Hall 1st event in a Bi-Partisan Speaker Series. Topic: Public Pensions.
Thursday, February 8th - Lamorinda Education Forum, Stanley Middle School, Multi-Use Room
I will discuss my 2018 legislative goals at the following town halls:
Tuesday, February 20th – Livermore Town Hall
Thursday, February 22nd – Walnut Creek Town Hall
Tuesday, February 27th – Pleasanton Town Hall
Monday, March 5th – Orinda Town Hall
For more information contact my district staff at 925-258-1176.